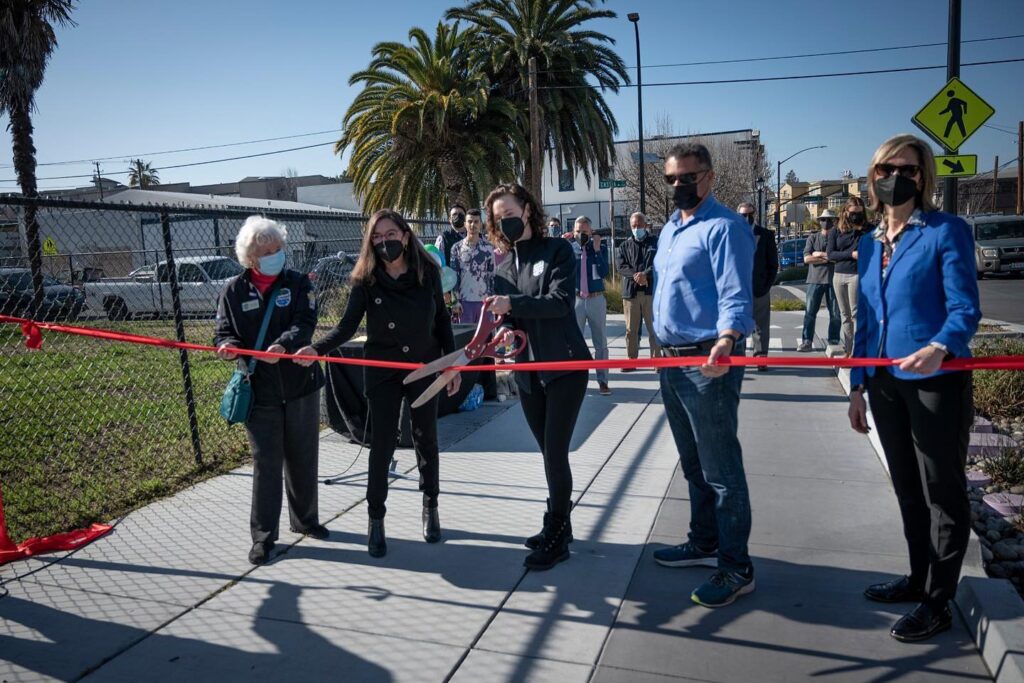 Middlefield Road streetscape project officially opened, representing substantial infrastructure improvements for Redwood City
It includes the construction of subway facilities for telecommunications lines and equipment, replacement of sidewalks and the addition of ramps, crosswalks, confined bicycle lanes, more lighting, tree planting and storm water treatment, among others.
The event, spearheaded by Redwood City Mayor Giselle Hale, took place this Monday, February 7 at 2:00 p.m. at the corner of Middlefield Road and Cassia Street, where the importance of improving the streetscape on Middlefield Road for the benefit of the city's residents was highlighted.
The project increases safety and mobility for pedestrians and bicyclists by reconfiguring the roadway to provide wider sidewalks and bicycle lanes.
Once completed, he said in a statement, "it creates an attractive gateway to downtown Redwood City and better connects residents to downtown's goods and services."
While streetscape construction in Middlefield began in May 2021, it was originally included in the North Fair Oaks Community Plan approved in 2011, which outlines goals for community development over the next 30 years: land use, circulation and parking, infrastructure, health and wellness, housing, design standards, and economic development.
The Middlefield Road project is expected to be completed in the winter of this 2022.
"Fortunately, Councils before ours recognized this problem. They saw an opportunity to connect a neighborhood with services within walking distance to the other side of town that could only be reached safely by car," noted Mayor Giselle Hale in her opening remarks.
The official stressed that, according to numerous studies, pedestrian safety is closely related to vitality.
"In the ten years since this project began, our downtown has experienced a renaissance. And today, with this ribbon cutting, more residents will have statewide pedestrian access to those services," he said.
He recalled that it started as a pilot program to see how the reduction of traffic lanes could increase other forms of mobility for cyclists and pedestrians.
"Today transportation is one of the top three priorities for our City Council and part of that is our commitment to Vision Zero."
In that sense, he informed that "Vision Zero" is an internationally recognized strategy to eliminate deaths and serious injuries in traffic accidents by 2030. Projects like this help us contribute to that ambitious goal by prioritizing safe pedestrian and bicycle transportation for all," he said.
Hale noted that Redwood City has made equity a guiding principle, "meaning that equity is examined in everything we do, from how we fill a pothole to how we prioritize projects."
He further explained that projects such as the streetscape improvement on Middlefield Road extend benefits to underserved communities and have a variety of secondary benefits, such as additional space for trees and vegetation, which has been shown to create cooler neighborhoods and reduce building energy costs.
"Our vision for Redwood City is to be a community where people of all backgrounds and income levels can thrive. With this project, we solidify our investment in that vision and our hopes that it will contribute to a thriving community," she said.
For those interested in the Middlefield Road streetscape project, please visit the website at https://publicworks.smcgov.org/projects/middlefield-road-improvement-project where you will find more information.
You may be interested in: SM County to debut express lanes on Highway 101