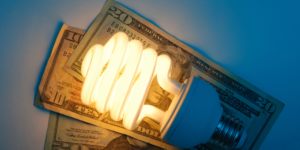 By Justo Robles. CalMatters.
Update: On Nov. 16, the state Public Utilities Commission approved an electric rate increase for Pacific Gas & Electric that will increase residential rates by a monthly average of $22.20 for electric-only customers.
Angélica Vásquez's anxiety spiked when she read the notice on her most recent electric bill: "Please pay $135.81 by 10/26 to avoid interruption of service."
But the warning was part of a larger problem. Vásquez owed a total of $400.68 to Pacific Gas & Electric Co.
For the past four months, the 43-year-old Salvadoran immigrant has been on disability leave from her job at Tesla due to a shoulder injury, she said. Vásquez also has not been able to work her second job, a part-time job cleaning houses to help pay the $3,000 monthly rent on the San Leandro home she shares with her husband, two daughters and two grandchildren.
In the early hours of Nov. 9, Vásquez wanted to heat the house for her grandchildren, who needed to shower and get ready for school. But there was no power. Vasquez said he immediately called PG&E and explained he had no money.
The utility giant didn't offer much help, he said.
"We had to borrow money," Vásquez added, recounting the day his family was left without electricity until 11 p.m. "The food was wasted, so we didn't have lunch or dinner that day. There are medicines in the refrigerator that no longer work."
Vasquez is one of millions of residents across the state who have seen significant increases in their electric bills in recent years, increasing their cost of living. And PG&E customers' bills could rise even more if the California Public Utilities Commission approves a rate increase on Thursday.
The Oakland-based utility is seeking a 26 percent rate increase starting Jan. 1, although one utility commissioner suggests a 9 percent increase.
According to the commission's Public Advocate Office's latest electric rate report, PG&E rates increased 92 percent from January 2014 to September of this year.
"We cannot afford to stay"
The Governor Gavin Newsom appoints the five commissioners of the Public Service Commission, who are confirmed by the state Senate for staggered six-year terms.
State regulators require PG&E and other investor-owned utilities to apply to review their revenues and expenses to establish reasonable rates. In its latest request, PG&E requested an increase in energy bills to bolster the safety and reliability of its electric services. The utility also cited inflation and investments in underground power lines designed to decrease the risk of wildfires to justify the higher rates.
In Thursday's decision, PG&E wants $15.4 billion in additional rate revenue by 2023, a 26 percent increase from the previous year. But state regulators responded with a proposed decision of $13.8 billion and Commissioner John Reynolds' alternative of $13.3 billion — increases of 13 percent and 9 percent starting in 2022, respectively. The commission will meet in El Centro, not at its headquarters in San Francisco.
"We are working to keep cost increases for customers at or below assumed long-term inflation, between an average of 2 and 4 percent a year. We reduced our operating costs by 3 percent in 2022," PG&E said in a statement to CalMatters.
Residential electricity prices in California are already more than double the national average, according to the Public Defender's Office report.
Republican state Sen. Brian Dahle, vice chairman of the Energy, Utilities and Communications Committee, said his office gets a lot of calls from people complaining about electric bills.
"People who are barely scraping by, people with disabilities, whatever," Dahle told CalMatters. "We get those calls and they tell us, 'We can't afford to stay,' and it's heartbreaking."
"The more money PG&E spends, the more it makes and that's not right. "We need to make sure we hold them accountable, that we complete projects at minimum cost."
Dahle's district encompasses 11 Northern California counties, including those hardest hit by the recent wildfires. The same state regulators who will vote on PG&E's proposed increases are also considering a $45 million fine against the utility in connection with the Dixie Fire, the second-largest wildfire in state history that started in the Butte County in 2021.
PG&E said it is building underground power lines to prevent wildfires and protect customers. Underground power lines, the utility giant argues, reduce the risk of electrically-ignited wildfires by 98 percent, but cost customers $3.40 a month between 2023 and 2026.
As of Oct. 30, 197 miles of 350 power lines that PG&E plans to bury this year have been activated so far. That's up from 180 miles of underground lines in 2022 and 73 miles in 2021.
Wildfire mitigation is not the only factor driving rate increases, according to the latest report from the Office of the Public Advocate, created in 1984 to represent the interests of utility customers.
"Investments in transmission and distribution are a second factor. That means replacing poles and wires with more modern equipment because certain new technologies can reduce the risks of starting fires," said Justin Ong, senior policy advisor at the office.
The third reason for rate changes is rooftop solar incentives. In an analysis published in October 2022, the bureau found that the cost shift of rooftop solar to non-participating customers increased from $3.4 billion to $4.6 billion from 2021 to 2022. Ong added that when homeowners of rooftop solar offset some or all of their cost share, customers without rooftop solar pay disproportionately more.
Maintain electricity supply for poor families
The quarterly rate report also noted that the average monthly bill increased by $52 for PG&E customers from January 2021 through September. In general, low-income households are hardest hit by higher rates and bills.
According to a monthly PG&E disconnection data report, 19,439 PG&E customers were disconnected for non-payment in September. Of the 5.6 million residential accounts as of September, nearly 1.4 million of those accounts were enrolled in a program that offers low-income customers a 30 to 35 percent discount on their electric bill and a 20 percent discount on your natural gas bill. More than 38,000 customers signed up for another program for families with slightly higher incomes that offers an 18 percent discount on their electric bill.
When asked to comment on PG&E's proposed increase, Ong said he could not provide details on it.
However, he added: "There is no silver bullet to resolve our rates crisis. Many of our investments in utilities are like a mortgage. Once made, they extend over decades. We are trying to develop solutions "To really reduce the energy burden on households, particularly those on lower incomes."
Ten miles south of PG&E headquarters, Vasquez sat near the corner of her living room, where a tall lamp illuminated her face while her two grandchildren slept nearby on the couch.
Vasquez said both children are excited for Christmas, but she is worried about money. She will soon return to Tesla and work with her daughters cleaning houses.
Although her husband's job as a construction worker helps cover most basic utilities, it won't be enough later this year as Christmas lights add costs to the bill.
"Am I going to tell them that this is a Christmas without lights?" he asked, looking at his grandchildren. "It's getting harder to live here."
Read the original note giving click here.
You may be interested in: Hospital in Gaza is turning into a cemetery: Témoris Grecko