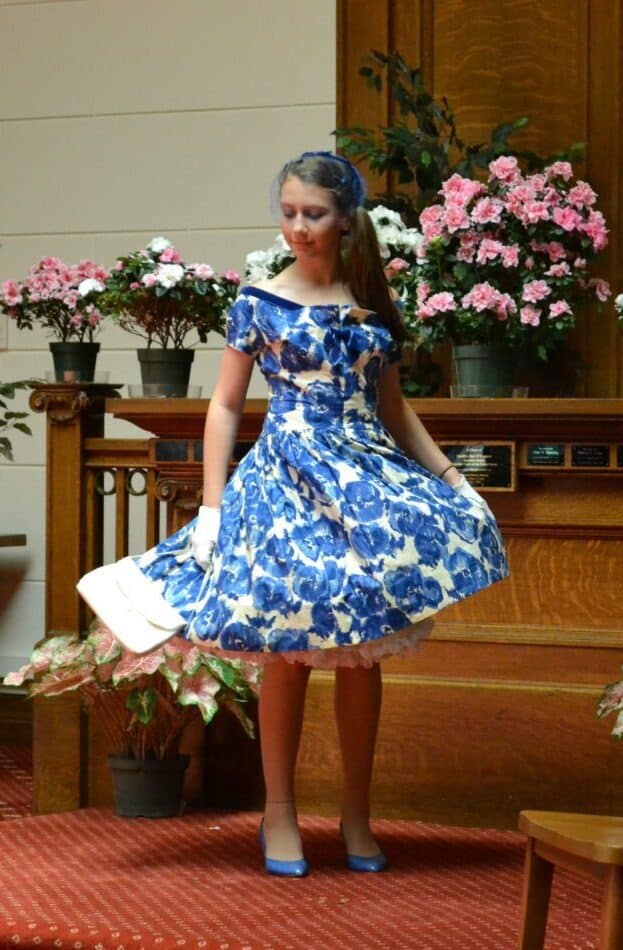 By Janis Mara. Bay City News.
Ladies twirling in red, blue and green dresses with full skirts, gliding down the runway in tasteful heels and matching handbags: The San Mateo County Museum of History is recreating the 1950s in a fashion show at the Redwood City museum on Saturday afternoon.
As the models walk demurely in true 1950s style, the museum's deputy director, Carmen Blair, will provide commentary describing the outfits, as well as an overview of what was happening in San Mateo County during that time period. .
"All over the peninsula, from Daly City to Redwood City, ranch-style homes stretched into the hills and out into the bay. Entire neighborhoods were created," said Mitch Postel, president of the San Mateo County Historical Association.
"The Lunch Ladies who lived in the ranch houses would don white gloves and pearls to meet downtown, driving big old gas guzzlers, pickup trucks, cars with fins, double headlights, and bucket seats," Postel noted. "The car accessories were just as meticulous as the women's."
Six young volunteers will model about 20 retro outfits in the fashion show, Postel said. The event will take place in a room used for live performances at the museum, which is housed in the former 1910 San Mateo County Courthouse.
The outfits will come from vintage clothing belonging to the museum.
«We have two collections here for wardrobe. One is protected and we would never use it for fashion shows, they are important historical pieces to the history of San Mateo County," Postel stressed.
Protected clothing includes a footman outfit from yesteryear. "We would never allow that outfit to be worn for public events like this. There's a lot of wear and tear on textiles when they're used like that."
Reality star Kim Kardashian found out about that the hard way after wearing a skintight nude-colored dress previously worn by Marilyn Monroe, sparking a public outro in May 2022 when Kardashian wore it to the Met Gala.
"That's exactly what we avoid by having two collections," Postel said.
The outfits on display at Saturday's fashion show will be drawn from the second collection, known as the Millie Collection: garments from various eras that have no direct connection to San Mateo County history.
The show will begin at 1:00 p.m. at the museum located at 2200 Broadway in Redwood City. The event is free with museum admission, which is $6 for adults, $4 for seniors and students, and free for children under five.
You may be interested in: Open convocatory! New edition of the Latin American photography contest