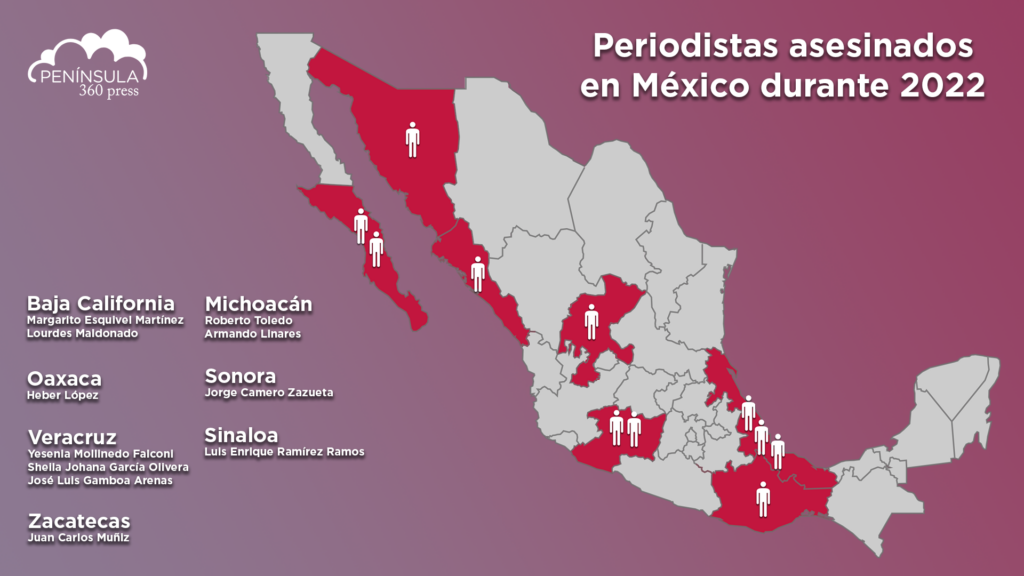 The journalistic profession in Mexico is in mourning. The country has become the most dangerous country in which to practice any type of journalism without being involved in a military conflict. From January 1 to date, 11 journalists have been murdered in Mexico.
Just this Monday, May 9, two murders of journalists were reported in Mexico, Yesenia Mollinedo Falconi and Sheila Johana García Oliveraboth ?director and reporter, respectively?, part of the portal "El Veraz" which is located in the state of Veracruz.
According to police reports, the journalists were shot and killed while they were in a car outside a convenience store in Cosoleacaque, Veracruz.
As in other cases of murdered journalists in this state, the Veracruz Attorney General's Office stated that it has initiated an investigation to clarify the facts.
Just four days before the double murder, on Thursday, May 5, the body of the analyst and political columnist was found in Culiacán, Sinaloa, in the north of the country, Luis Enrique Ramirez Ramos was found dead.
The founding director of the news site Credible Sourceswas found on the morning of May 5 on a dirt road leading from Mexico Highway 15 to Campestre Las Nanchis, in Culiacan, Sinaloa. He was wrapped in plastic. He had been kidnapped outside his home the day before. Ramirez Ramos was a journalist, analyst and political columnist, as well as a writer. His work was widely known in that state.
It seems that the attackers know that there is total impunity in the country, as violence against journalists does not stop despite calls from national and foreign organizations that have made clear the seriousness of the murders of journalists in Mexico.
To these three murders of journalists in Mexico in the last week, 8 more have been added.
José Luis Gamboa Arenas was stabbed to death on January 10 in the state of Veracruz. According to authorities, the crime may have been the result of an alleged robbery. Gamboa was founder and editor of the news portal Inforegio, where he covered security issues, as well as being one of the founders and editors of the digital media La Noticia.
Margarito Esquivel Martínez was shot and killed outside his home in Tijuana, Baja California, just seven days after Gamboa. The photojournalist focused on security and police-related stories for Semanario Zeta and Grupo Cadena, and his work was published by international media outlets such as the BBC.
As if it were a cruel joke, seven days after Margarito's death, she was murdered. journalist shot Lourdes Maldonadoonce again in Tijuana. "I fear for my life", she said facing the president of Mexico, Andres Manuel Lopez Obrador, during the morning press conference held from the National Palace, as she had received threats. Five days later she was shot at when she arrived at her home, where she died.
The last day of January, Roberto Toledoa contributor to the Monitor Michoacán portal, was shot as he left his office in Zitácuaro, Michoacán. Despite seeking a low profile, as he had already received threats for his journalistic work, he was murdered. Presidential spokesman, Jesús Ramírez, condemned the murder, however, he pointed out that Toledo was not a journalist but an assistant in the office where he was killed. These declarations outraged a union fed up with injustice and attacks on their work from the presidential "pulpit".
February did not open any better, and the murders of journalists in Mexico continued on February 10, Heber LopezLopez, director of the Noticias Web portal, was shot to death upon arriving at his home in Salina Cruz, Oaxaca. Lopez, 39, had been a journalist for 18 years, especially covering corruption and security issues, which earned him several threats.
14 days later, on February 24, Jorge Camero Zazuetathe director of the portal El Informativo, was shot to death inside a gymnasium he regularly attended in Cajeme, Sonora. The crime occurred only two weeks after resigning from his position as private secretary to the mayor of Empalme, Sonora, Luis Fuentes Aguilar, and resuming his journalistic activities at the website he created.
The first victim in March was Juan Carlos MuñizOn March 4, he was gunned down in Fresnillo, Zacatecas, in his vehicle, which he used both to travel to cover his assignments and to provide cab services.
619 kilometers away from that murder, on March 15, Armando LinaresLinares, a reporter for the news portal Monitor Michoacán, was gunned down inside his home in Zitácuaro, Michoacán. On January 31 of this year, Linares had requested security measures from the Federal Government's Protection Mechanism due to various threats against him, but these were denied on the grounds that he was not a journalist.
From this media located in the San Francisco Bay Area, California, USA, we deeply condemn the murders of Mexican journalists who seek to freely and safely exercise their journalistic work in Mexico, and at the same time, as Mexican nationals, we demand that the government clarify, resolve and exercise the full weight of the law for those who took the lives of these and all murdered journalists.
At the same time, we demand that all reporters, photographers, cameramen, editors, publishers and other journalistic positions be protected by the State, because, although our media is focused on the Latino community in California, we have collaborators who work in Mexico, and today their integrity is compromised.
You may be interested in: 7 journalists murdered in Mexico