This opening weekend of the football season in AYSO It brought with it soccer balls, shin pads and cleats, but also, the mandatory use of mouth masks and some dissensions.
Throughout the Bay Area, young people are returning to a variety of fall sports, many of which were interrupted by the quarantine a year ago. The current COVID-19 pandemic and the Delta variant has teams and league officials trying to balance health and safety with the desire to get kids back on the field; however, with differing opinions and policies on safety rules, such as the use of mouth covers and vaccinations, league officials are in a difficult position.
"We're all looking forward to putting the pandemic and all of its restrictions behind us, but we're not there yet," said Belmont Parks and Recreation Director Brigitte Shearer.
Shearer explained that there are many levels of guidelines: basic precautions are mandated by the state and county, the next include city-specific statutes, and other precautions are up to individual leagues.
Currently, according to the San Mateo County Announcement As of May 19, fully vaccinated persons do not have to wear face shields outdoors, except when physical distance cannot be maintained.
In Redwood City, Community Services Director Eric Newby stated that the city closely follows state and county requirements.
"So far we have not seen any cases and we are constantly monitoring developments," Newby said.
The City of Belmont's policy adds one of the strictest guidelines, citing, "The majority of our face-to-face programs and sports teams are designed for youth 12 years of age and younger, most of whom are not currently eligible to receive the vaccine." Given the recent CDC guidelines of May 16, stating that unvaccinated children should continue to wear masks and maintain physical distance, Belmont's current policy is to "continue to require youth and staff to wear masks indoors and outdoors."
The municipal rules affect all leagues playing on their fields. Zeljko Zivkovic, AYSO Regional Commissioner, started the season with a carefully worded letter asking families to follow the rules and regulations. city guidelines.
Joe Revels, president of the Belmont Redwood Shores Little League, BRSLLissued a similar statement:
"I know it is not ideal, but we must insist on 100% compliance. The safety of our children is extremely important to us and compliance with all mandates per COVID-19 is our best tool to do everything we can to keep them safe. In addition, we could face cancellation of our fall program and loss of permits if the City of Belmont deems us non-compliant." said Revels.
However, not everyone agrees with the more restrictive practices.
At the Belmont Sports Complex on the first day of the AYSO season, a U-12 girls soccer game was delayed because coaches and referees disagreed over the different policies for wearing face masks by COVID-19 during intercity play. Belmont players were required to wear masks and asked the visitors from Menlo Park to comply.
Menlo Park coach Andrew Tiley felt the delay was unnecessary, as his team had trouble finding mouth covers for all the players.
"It's not necessary. Kids are outdoors, and there's little risk of infection. Our league suggests mouth covers, but they are optional," Tiley said.
However, father Bence Oralai, whose son plays for a football team of Belmont Unitedsupports the use of mouthguards. "If it makes things safer, it's a way to keep our kids healthier and able to enjoy fun, healthy activities like soccer," Oralai said.
Newby and Shearer agreed that, in the case of playing other cities, the rules of the city's host venue would prevail. "If a Santa Clara team came to play in Redwood City, they would have to follow San Mateo County guidelines," Newby said.
In addition to the variation in umpire policies, enforcement has been another ongoing problem. While soccer and BRSLL baseball adhere to the use of mouthguards, softball players and BRSLL baseball players have been more likely to wear mouthguards than softball players. Babe Ruth does not. Shearer acknowledged that the policy is difficult to enforce, and that it relies on league commissioners to follow the rules.
Belmont Little League players play with mouthguards, although many youngsters find it difficult.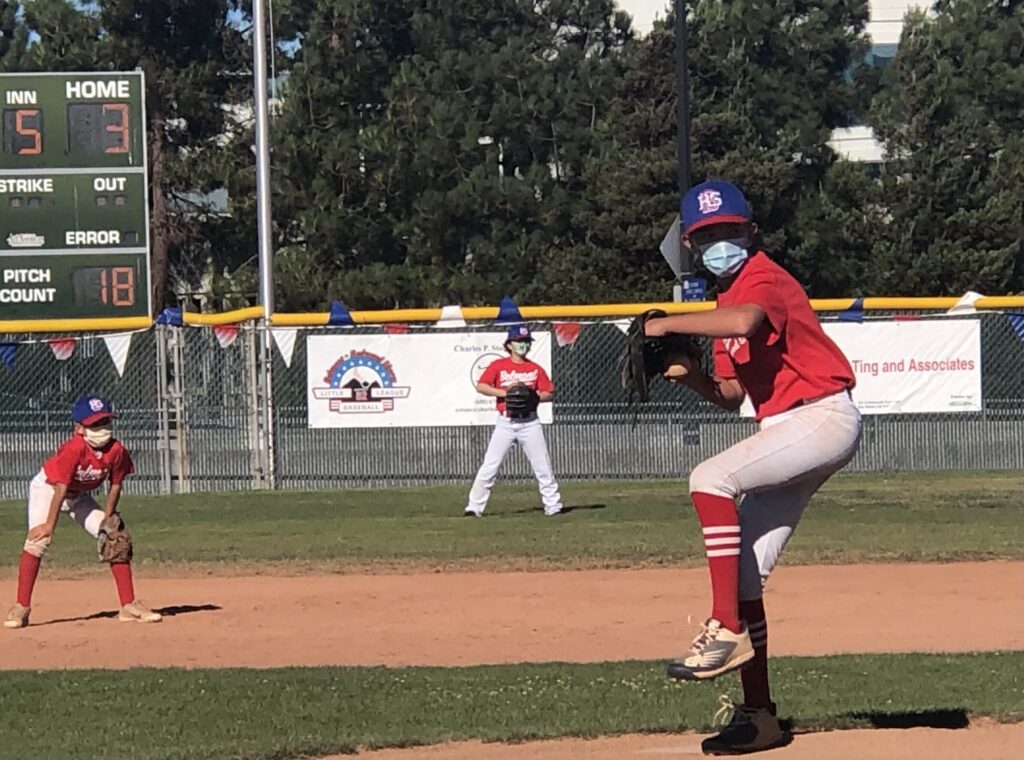 Some young players don't like masks.
"Actually, I don't like the mouthguards. They make it hard for me to breathe when I run, and it's really hard when it's hot. Plus, I can't see my friends' faces," says Elliott Sternke, 11.
Elliott's brother Oliver, 10, agreed: "They're all annoying."
Despite the players' discomfort, the increasing number of pediatric COVID-19 cases forces league and city officials to be ever vigilant.
Matt Kerby, regional referee and AYSO board member, believes that mouthguards are the best tool to prevent COVID-19 in these circumstances.
"No one likes to wear facemasks, but it's a low-cost tool to reduce the risk of transmission. Player safety is AYSO's number one priority and the facemask contributes to the safety of everyone, especially the unvaccinated, for whom we are responsible," said Kerby.
Security precautions for COVID-19 are not the only problem posed by the leagues, as organizers also have to deal with the volatile air quality fueled by the recent fires. In Belmont, the city is demanding that youth sports be cancelled if the air quality index is over 200, which sometimes forces coaches to stop training at the last minute.
Shearer offered some optimism in the midst of the pandemic: "With today's news that one vaccine for ages 5 to 11 years old may be available soon, comes the hope that we can modify our guidelines in the future."
Amidst the many challenges ahead, it will be up to cities and league officials to enforce current and existing policies, while remaining mindful of rapidly occurring and ever-changing conditions.