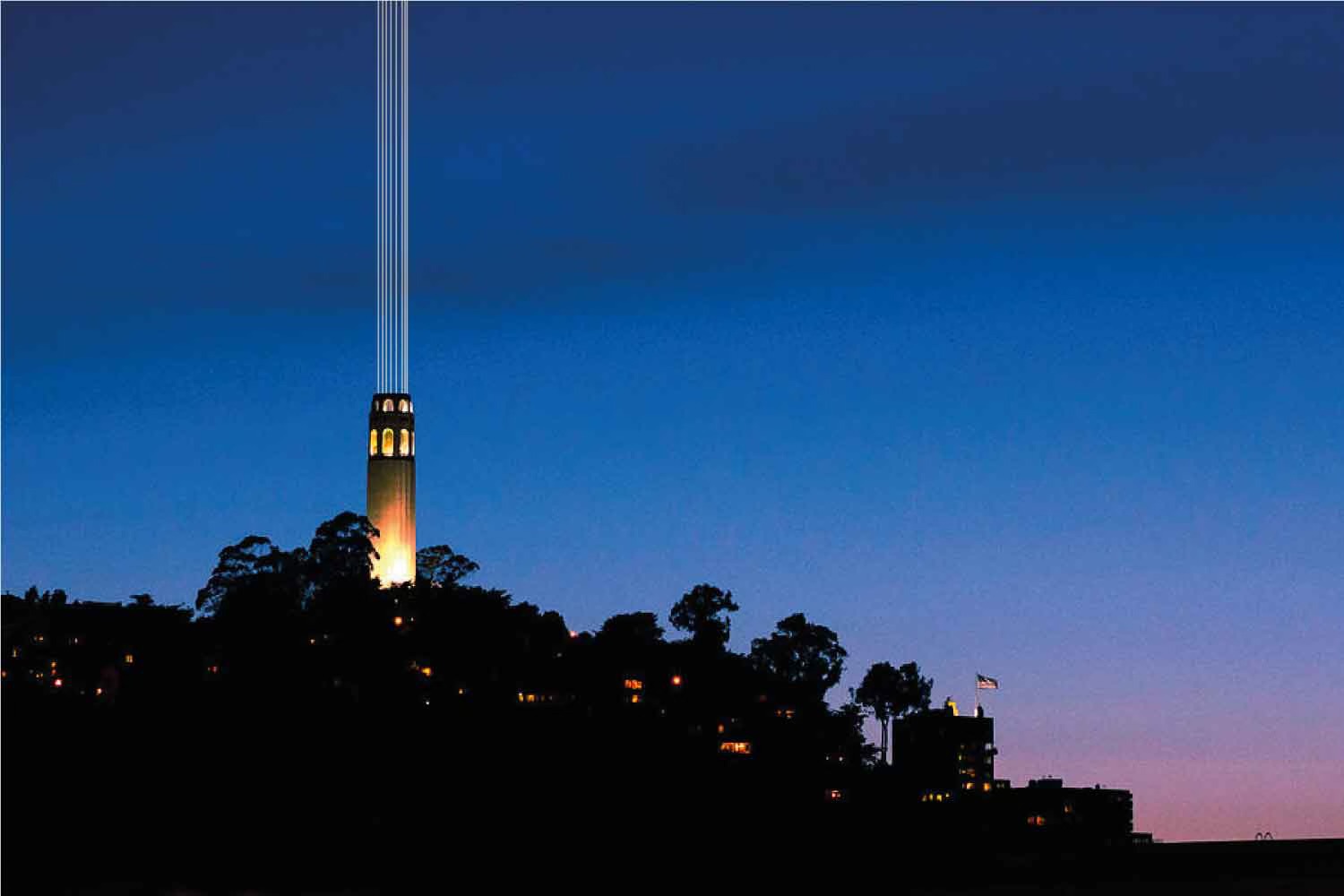 By Bay City News.
Coit Tower will light up the San Francisco skyline with laser space cannons this weekend as the non-profit arts organization Illuminate aims to continue lifting the spirits of locals and energizing the city.
According to Illuminate, the three-night "Candle" installation will officially kick off on Friday after 9 p.m. It will light up from dusk to dawn.
Overlooking the city and San Francisco Bay, the 210-foot Coit Tower was built in 1933. It is named for Lillie Hitchcock Coit, patron of the San Francisco firefighters. The nonprofit group noted that the SFFD will bring its firefighting equipment to the event.
According to Illuminate, "Candle" is the third of four "Summer of Awe" laser installations "designed to energize and captivate the city through the creation of extraordinary laser art" with partner Nu-Salt Laser International.
"San Francisco is the city of wonder," Illuminate CEO Ben Davis said in a statement. "Our Summer of Awe series is designed to lift spirits locally and allow San Francisco to shine in the eyes of the world."
The series kicked off during San Francisco Pride weekend this past June, with a 4.1-mile Pride laser flag being broadcast to Twin Peaks. Last weekend, Illuminate celebrated "loveAbove," with lasers gracing Sutro Tower as part of its 50th anniversary.
The cycle will end from July 27 to 29 with "Window", a projection of lasers from the Fairmont Hotel in the "Rose Window" at Grace Cathedral.
You may be interested in: Redwood City Library Youth Center unveils mural