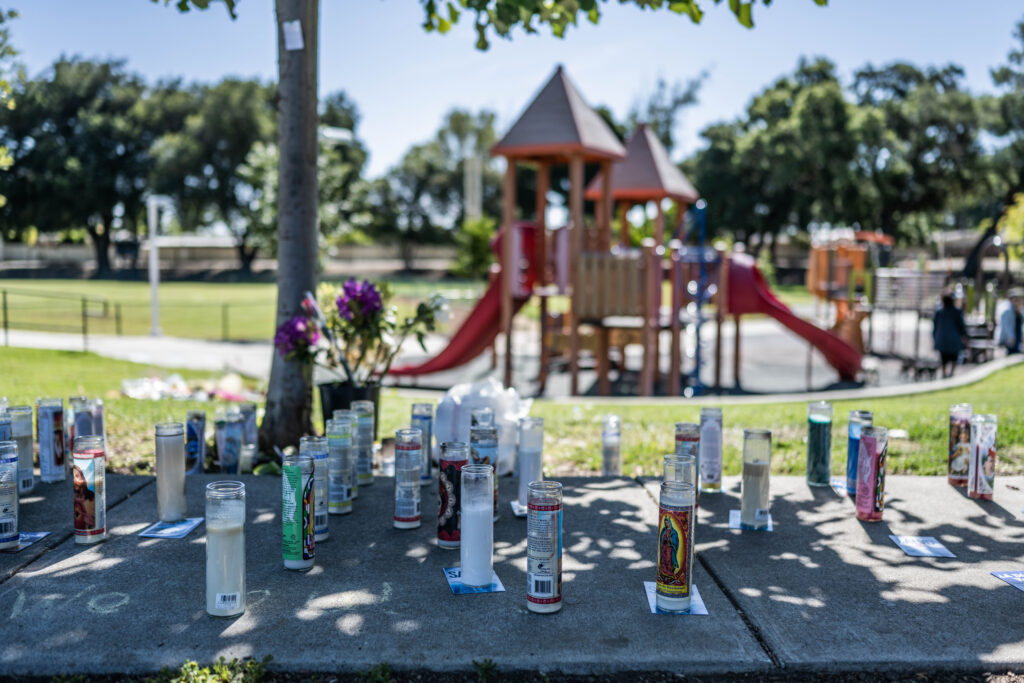 By Pamela Cruz and Manuel Ortiz
In downtown East Palo Alto, Jack Farrell Park is filled with children and teenagers in the afternoons, playing and enjoying the activities that the place has to offer, but on Tuesday, May 17, a shooting that left one man dead and three wounded spread fear among the community, which is why residents fear that the violence in East Palo Alto experienced 20 years ago will return and make the city uninhabitable again.
The fact, not minor, provoked frustration, anger and concern among all the residents of the small town, even considering moving to a quieter place, where their children can enjoy themselves without worrying about being hit by a bullet.
So that the community does not become an unsafe space, East Palo Alto Mayor Ruben Abrica has asked residents to "lose their fear" and cooperate with the authorities in order to solve the case.
"We know that many witnesses saw what happened and we are going to ask the community to help us in that aspect, they can send anonymous information. We don't want to go back to a very painful time here in this city, like approximately 20 years ago," he stressed in a telephone interview conducted by Marcos Gutiérrez and Manuel Ortiz during the Peninsula 360 Radio program on KIQI, on frequency 1010 AM from San Francisco, California, in collaboration with the program Hecho en California.
In this regard, he pointed out the importance of creating a safe city based on a joint effort between the community, the police, the government and community leaders.
He explained that there was a time in East Palo Alto when there were several gangs that controlled the drug trade, while people from other places came looking for that illegal market, so the criminal groups fought for control of territory.
"There were many people who died, many people injured, that time was very difficult, but we managed to overcome it, that's why it always has to be a collaboration between the police, the government and the people who have influence within the community," he stressed.
He recalled that, so far this year, there has only been one homicide in the city, but it is enough to take action on the matter.
"There has only been one homicide this year and that is why we are mobilizing quickly, so that we can solve this and that there will not be replicas; because we do not know if it is the rebirth of a gang," he said.
He pointed out that a lot of money has been invested in the park, where the tragedy occurred, so that it is in very good condition, since it is actively used by children and adolescents.
Some of the money for the site has been donated by the cousin of the man killed in the shooting, Raiders wide receiver Davante Adams, who donated, in conjunction with nutrition companies, outdoor exercise equipment for everyone to use.
Finally, Mayor Abrica recalled that East Palo Alto is a small community, so many people know each other and it is possible to find the people who may have perpetrated the homicide.
"There are no confirmed details yet, the investigation is still ongoing. For that reason we ask witnesses not to be intimidated, whether it is an organized group or not. When there is this kind of public violence, it is a way to intimidate the community and we cannot allow that in any way. For now, our condolences go out to the family and friends of the deceased, but we must work together".
Pain and fear in the face of violence in East Palo Alto
For those living in East Palo Alto, the grief does not cease for the loss of Ralph Fields Jr. who was shot and killed in broad daylight in the park.
"I went to school with Ralph, in high school. I grew up with him for a while and even though I didn't hang out with him anymore he was always a good friend" pointed out one of his acquaintances who for security reasons preferred to remain anonymous. "I feel sorry for him, things happen, but you just can't deal with it".
He detailed in an interview for P360P that the people of East Palo Alto feel bad and in a lot of pain because of what happened, "People here grow up together and many have known each other since they were children, and as adults they all split up, but it's not the first time it's happened."
For one woman and mother, who also preferred not to give her name, the situation is untenable.
"One thing we always said and that we repeat in the media is to stop the violence and don't be quiet, but they know what happened and they know who did it, there are people talking in the street. How do they want to stop this if they themselves are afraid to say what happened here. The police, the members of the city, they all know what happened, they have heard, they have data of who could have done it, there were many people, it is impossible that nobody knows anything, there were children running and I have courage because, how many people have not died in East Palo Alto", he said.
He noted that over the years he has lost many friends in the city due to firearms, a situation he does not want his children to experience.
"It makes me sad that my children grow up like me, watching violence and things on the networks. It makes me sad because there was already a generation that was born, grew up and I look at watching that and this generation wants to grow up different, but we are in the same, we are living like 20 years ago, not in 2022," he added.
"I am angry, I have anxiety, I feel very sad, I don't want to live here anymore. I grew up here and it wasn't like this before, I don't want to live here anymore, I want to leave," she said.
For another resident, who has lived in East Palo Alto for 40 years, the violence is also felt in other ways. According to her, there are more and more traffic accidents, which she attributes to speeding and reckless driving by drivers, as well as substance abuse.
"I feel scared, I don't feel safe here at all. I have thought about leaving the city, selling my house and leaving. I don't even want to drive anymore because everyone drives fast," he added.
He detailed that security in the city has worsened lately, "before they sold drugs, but we did not see so many accidents, now there are many, people drive crazier".
According to California Highway Patrol data, gun violence on Bay Area freeways has skyrocketed in the last three years; shootings have doubled, adding to growing insecurity.
According to the media NBCthe California Highway Patrol noted that there were 82 shootings on Bay Area freeways in 2019, which resulted in six fatalities and 50 injuries.
Meanwhile, in 2020, it increased by more than 50 percent, to 124, with five people killed and 54 injured; by 2021, the number of shootings reached 178: eight people were killed and 62 were injured.
In early December 2021, San Mateo County authorities said they collected 425 firearms during a buyback event held in San Carlos.
You may be interested in: SF announces $6 million dollar grant for gun violence prevention