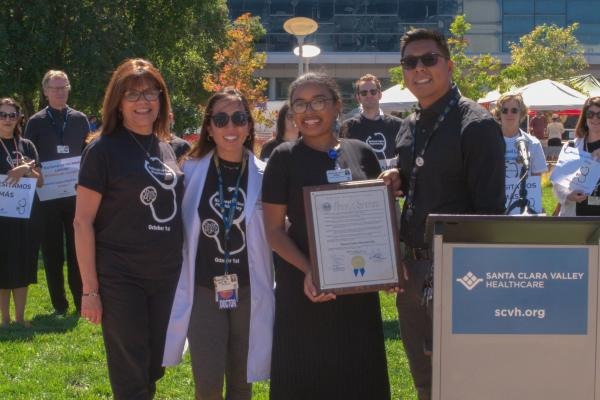 While the Latino population represents almost 20 percent of the country's population, the number of doctors barely reaches just under 7 percent, a situation that makes it necessary to raise awareness about the shortage of Latino doctors, not only at the local level, but federal.
Within the framework of the National Latino Doctor's Day, which is celebrated annually on October 1, Santa Clara Valley Healthcare (SCVH) said that the commemoration seeks to raise awareness of the need for Latino doctors who can also support the Spanish-speaking community in the country.
And, he said, numerous socioeconomic factors, including historical discrimination, financial barriers and a lack of peers and role models, among other factors, contribute to disparities, Santa Clara County said.
In celebrating its Latino physicians on September 27, Santa Clara Valley Healthcare highlighted the importance of raising awareness and helping create a path for future Latino physicians.
"Treating the whole patient requires cultural competency for an unparalleled level of care from physicians who reflect the heritage and demographics of the communities they serve," said Santa Clara County Supervisor Sylvia Arenas.
?On this National Latino Doctors Day, we raise awareness about the shortage of Latino doctors and seek to inspire the next generation of Latino doctors to expand the diversity of our doctors with resources so that our community can receive the comprehensive care they deserve,? he added.
For her part, Santa Clara County Supervisor Cindy Chávez detailed that the percentage of Latino doctors is critically low compared to the total percentage of Latinos in the US.
?Health care disparities have worsened in the Latino community during and after the COVID-19 pandemic, and studies have shown that patient outcomes can improve when people are treated by doctors who share their language and background ethnic?, he stressed.
SCVH noted that it actively recruits Latino physicians locally and across the country, but the key in the long term is to create a visible channel for the next generation of Latino students to choose the medical profession.
He further specified that future efforts to highlight a path for the next Latino doctors include mentoring programs at the high school and college level, volunteer opportunities to show the benefits to the community and helping young people find scholarship opportunities for what they It is an expensive commitment.
"Sometimes you have to see it to believe it, and the more Latino doctors our community sees grow, the more likely they will be to consider becoming doctors," said Dr. Angela Suarez, medical director of primary care at Santa Clara Valley Medical Center.
Dr. Rachel Ruiz, pediatric gastroenterologist from Santa Clara. Valley Healthcare and president of Valley Physicians Group, pointed out that a generational change will be needed to remedy the situation, "but we are committed to short- and long-term solutions to encourage and create more Latino physicians in the coming years."
You may be interested in: $33 million awarded to tribal organizations to expand mental health medical program